Yanos Gramatidis talks to CEE Legal Matters on Bahas, Gramatidis & Partners' Corporate/M&A Practice in Greece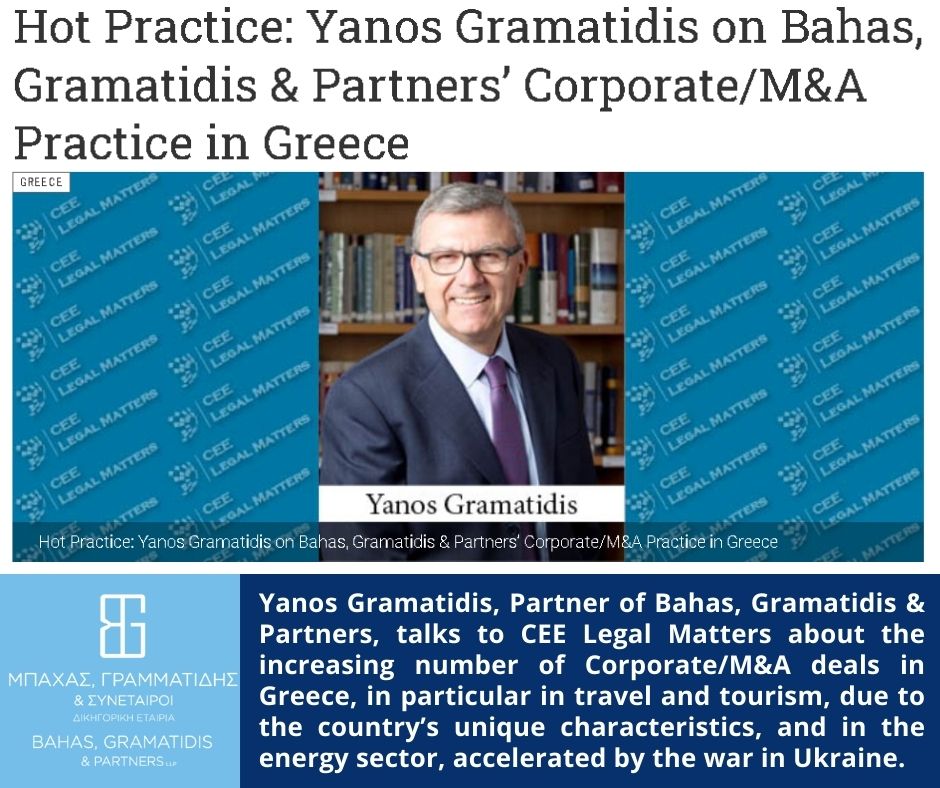 An increasing number of Corporate/M&A deals, in particular, in travel and tourism, due to the country's unique characteristics, and in the energy sector, accelerated by the war in Ukraine, has been the main focus of Bahas, Gramatidis & Partners, according to Partner Yanos Gramatidis.
"In Greece, we witnessed an increase of residential and commercial real estate development," Gramatidis explains. "Commercial real estate-related M&A deals primarily were related to hotels and office buildings." This, according to him, is a result of the increasing interest in Greek hospitality. "In relation to tourism, Greece is becoming known as a popular and reputed tourist destination. This requires more hotels and touristic facilities to accommodate the demand. In addition, the government's decision to promote privatization contributes to our economy and growth in this regard."
Gramatidis highlights that the firm represented foreign and Greek construction companies working in the tourism sector for many years. "We advised well-known brands of hotels, i.e. Marriott on their deals and licensing agreements on both mainland and islands. Other hotel brands are also heavily involved in the Greek market," he explains.
Another active field witnessing an increasing number of M&A deals is the energy sector, according to Gramatidis. "Greek energy companies, primarily in the area of alternative energy sources, such as solar and wind power, have become more active," he says. "Investors are selecting suitable farms, and we assist them with their relations with local companies as well as in the frame of the necessary licensing requirements."
"In Greece, we have certain characteristic elements that are driving forces to it," he points out. "Greece has a geographical advantage in terms of energy production. Taking into account the war in Ukraine, the government is determined to reduce energy consumption dramatically to make sure that we have enough reserves for energy in case of an emergency."
Despite the ongoing war, Gramatidis believes, that an increase in M&A deals is expected in the tourism and energy sectors. "In Greece, for the first time, we are witnessing an increasing volume of domestic and international deals," he says. "Our firm gets prepared for the upcoming year by hiring more lawyers, specializing in the abovementioned sectors. Overall, I would say that we have a positive outlook on the future," he concludes.
The interview was firstly published at CEE Legal Matters Website by Teona Gelashvili on the 14th of April 2022.
You may read the interview at CEELM's website here