Yanos Gramatidis talks to CEE Legal Matters Magazine about the revival of the Greek Economy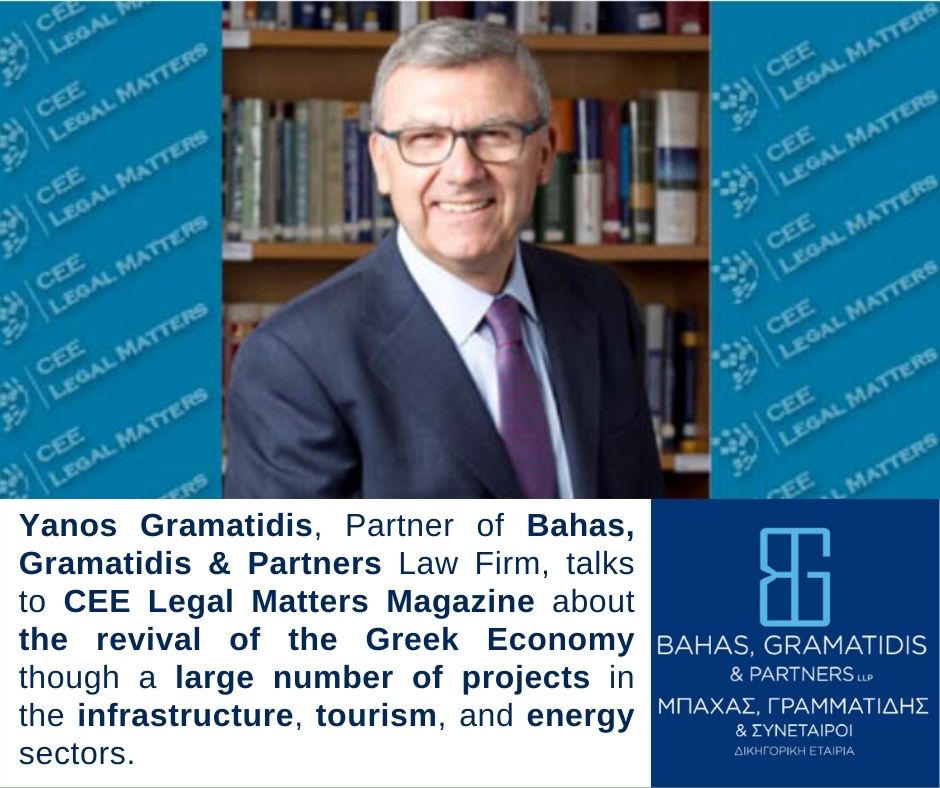 With the pandemic slowly fading away, the Greek economy is reviving with a large number of projects in the infrastructure, tourism, and energy sectors

according to Bahas Gramatidis & Partners Partner Yanos Gramatidis
"In Greece, there is a lot of legal work in relation to the design and implementation of various infrastructure projects launched by the Greek government – especially projects by the Hellenic Asset Management Fund which owns the real properties," Gramatidis says. "The current projects include the protection of forests, the establishment of industrial parks, and the exploitation of various real estate belonging to the Greek state." Among these projects, according to Gramatidis, "are the Olympic installations, which have been built for the 2004 Olympic Games, but have mostly been abandoned ever since. Now, there is a push for these areas to be used for commercial purposes. In addition, there is a rise in work generated by privatization, including ports, marinas, casinos, and others."
Gramatidis says, that another busy area is the tourism sector. "There have been a lot of transactions related to the acquisition of hotels – not only 4 and 5-star hotels, but also boutique hotels. Many foreign companies are looking for investments in this area, keeping law firms busy, in particular, in relation to hotel franchises and management contracts. Once the hotel has been acquired, the new owners are trying to make sure that they enter into a reputable hotel chain." The biggest player at the moment, according to Gramatidis, is Marriott due to the strong brand its portfolio possesses. "In relation to tourism, we also saw many projects of creating and modernizing marinas for private yachting," he adds. Finally, Gramatidis says that there is a great demand by non-EU nationals to acquire either bonds or real estate in order to secure a golden visa of 5 years renewable.
"Very relevant to the tourism industry are commercial aircraft leasing projects, with Aegean airlines, as well as several small carriers, increasing their fleet in order to meet increased demand," Gramatidis notes. "As a result, there is a lot of work related to commercial aircraft leasing." According to him, the airlines tend to assume that there is no prospect for further lockdowns, with the pandemic slowing down and becoming less lethal.
Further, Gramatidis says, "there are big groups from Europe looking at Greece to acquire energy projects that are either already licensed or about to be licensed. Greece has a lot to offer, considering its capacity to produce energy, especially solar and wind power."
"As for the legislative updates, the biggest novelty is related to the new development law," Gramatidis adds. "It gives incentives through grants and tax holidays for companies wishing to invest in Greece. Commercial legislation has also been recently modernized, now allowing one to set up a company in one day," he says, adding that "we are still evaluating its impact on the business sector."
"Finally, Greek law firms are increasingly engaged in ESG programs," with the partner pointing to his firm's project of planting olive trees in the areas affected by the fires these past years. "Interestingly, this is not primarily driven by the modern European trend toward implementing ESG requirements, but rather by the sensitivity of the Greek people toward environmental disasters that have been taking place, including the wildfires from last summer and this summer," he concludes.
The interview was taken by Teona Gelashvili and was originally published on the 26th of July 2022 at CEE Legal Matters Magazine's website. You may also read the interview, here