Yanos Gramatidis speaks at Delphi Economic Forum VI | May 12 & May 14, 2021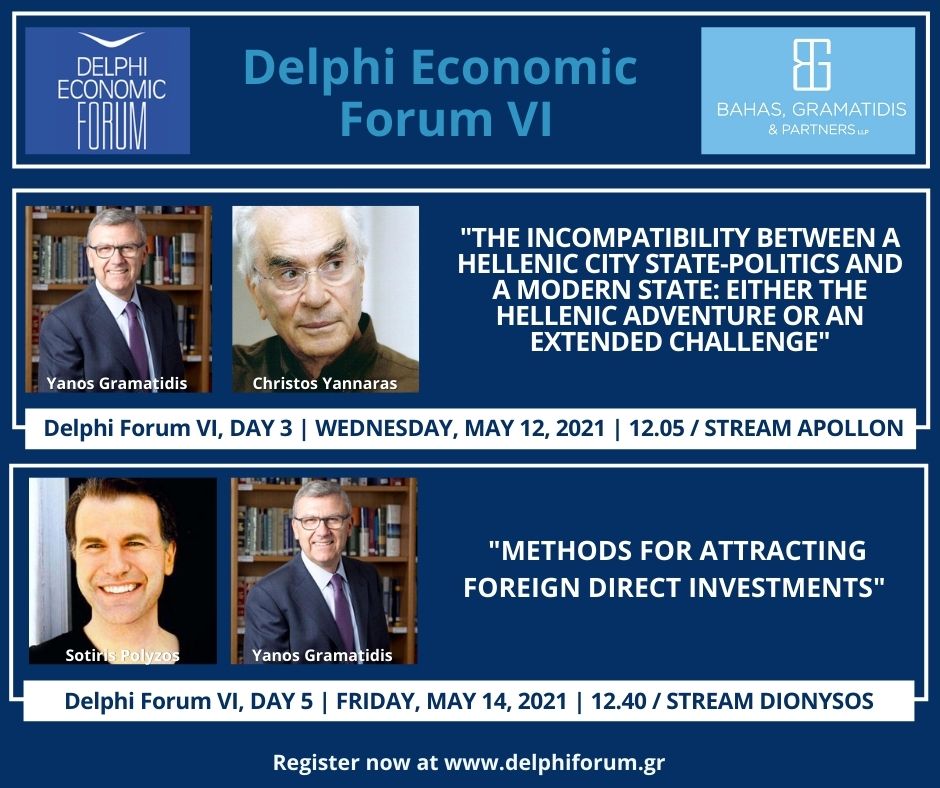 Delphi Economic Forum VI
May 12 & May 14, 2021
We are pleased to announce that Yanos Gramatidis, Partner of Bahas, Gramatidis & Partners Law Firm, in his capacity as the Honorary President of  the American-Hellenic Chamber of Commerce, is the Chairperson of the session "THE INCOMPATIBILITY BETWEEN A HELLENIC CITY STATE-POLITICS AND A MODERN STATE: EITHER THE HELLENIC ADVENTURE OR AN EXTENDED CHALLENGE.
Christos Yannaras, Philosopher, will join the session.
Delphi Forum VI, DAY 3 | WEDNESDAY, MAY 12, 2021 | 12.05 / STREAM APOLLON
Yanos Gramatidis, will also join the session "METHODS FOR ATTRACTING FOREIGN DIRECT INVESTMENTS". Sotiris Polyzos, Journalist, TRT TV, Greece, is the chairperson.
Delphi Forum VI, DAY 5 | FRIDAY, MAY 14, 2021 | 12.40 / STREAM DIONYSOS
Register now at www.delphiforum.gr