Yanos Gramatidis received the "GOLD WINNER OUTSTANDING CONTRIBUTION TO FRANCHISING 2023" award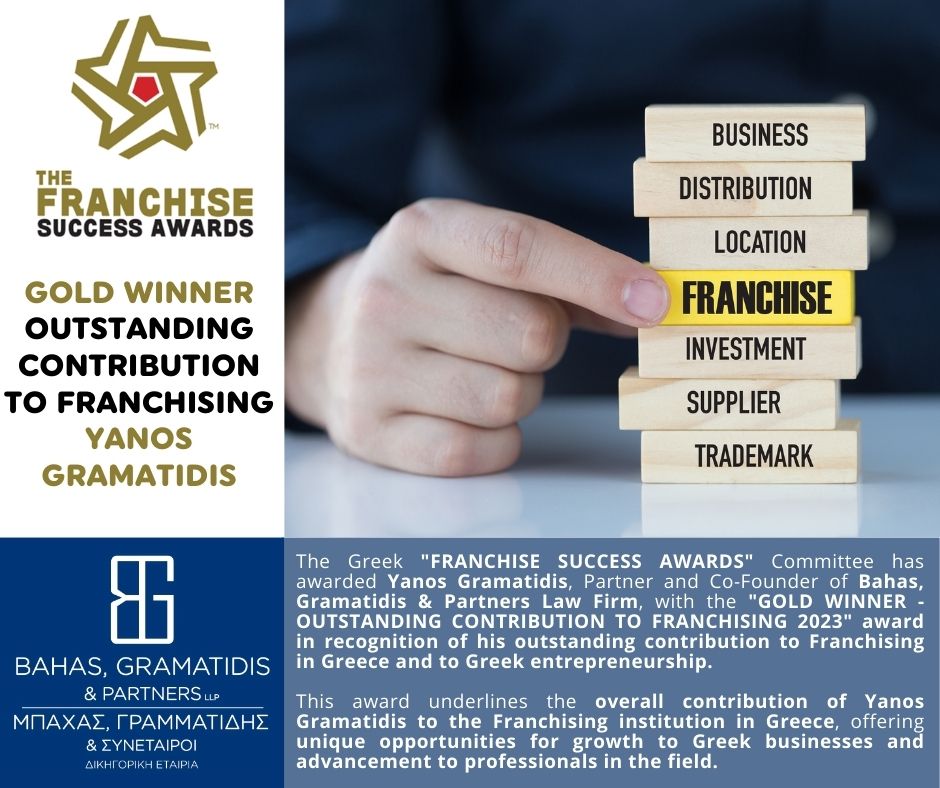 Yanos Gramatidis received the "GOLD WINNER OUTSTANDING CONTRIBUTION TO FRANCHISING 2023" award by the Greek "FRANCHISE SUCCESS AWARDS" Committee
The Greek "FRANCHISE SUCCESS AWARDS" Committee has awarded Yanos Gramatidis, Partner and Co-Founder of Bahas, Gramatidis & Partners Law Firm, with the "GOLD WINNER – OUTSTANDING CONTRIBUTION TO FRANCHISING 2023" award in recognition of his outstanding contribution to Franchising in Greece and to Greek entrepreneurship.
This award recognizes and rewards the pioneering contribution of Yanos Gramatidis to the development and strengthening of the institution of franchising in the Greek market, as well as to Greek entrepreneurship in general, offering unique opportunities for growth to Greek businesses and advancement to professionals in the field.
More specifically he was recognized for:
His ethos and consistency towards the institution and the franchising community in the Greek market.
The effective and generous transfer of his know-how.
His substantial support to entrepreneurs -franchisees and franchisors- and stakeholders in the franchising industry.
Read more about Yanos Gramatidis' award on the website of THE FRANCHISE SUCCESS AWARDS by clicking here
(the link is in Greek)