The Greek economy stood strong despite the pandemic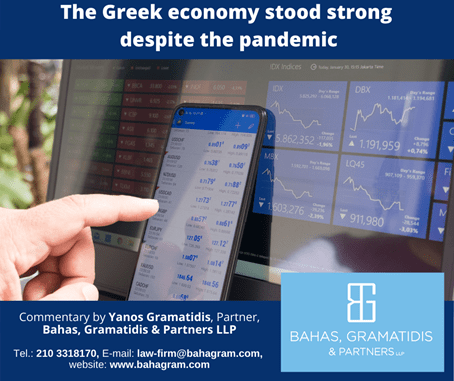 Commentary by Yanos Gramatidis, Partner of Bahas, Gramatidis & Partners LLP
Despite the serious impact of the pandemic on the global economy, Greece succeeded to maintain the trust of the markets as such development is reflected on five consequent successful bond issues.
As to the sectoral economic activity, Telecommunications and Technology led the market with 14 transactions including the acquisition of dealing with e-commerce. The sector of energy followed with 9 transactions.
As for 2021, it is anticipated that the value of transactions will exceed Euro 2b mainly in the sectors of green energy, banking tourism and food, while the value of privatisation is expected to reach the level of Euro 1,5b.
The pandemic triggered the fierce continuation of important reforms relating to the digitalization and modernization of the public sector that open the avenue to the sustainable growth and to the attraction of investment.