OLYMPIA FORUM II: Project "Olive Tree Replacement in Ancient Olympia" | Videos & Photos now available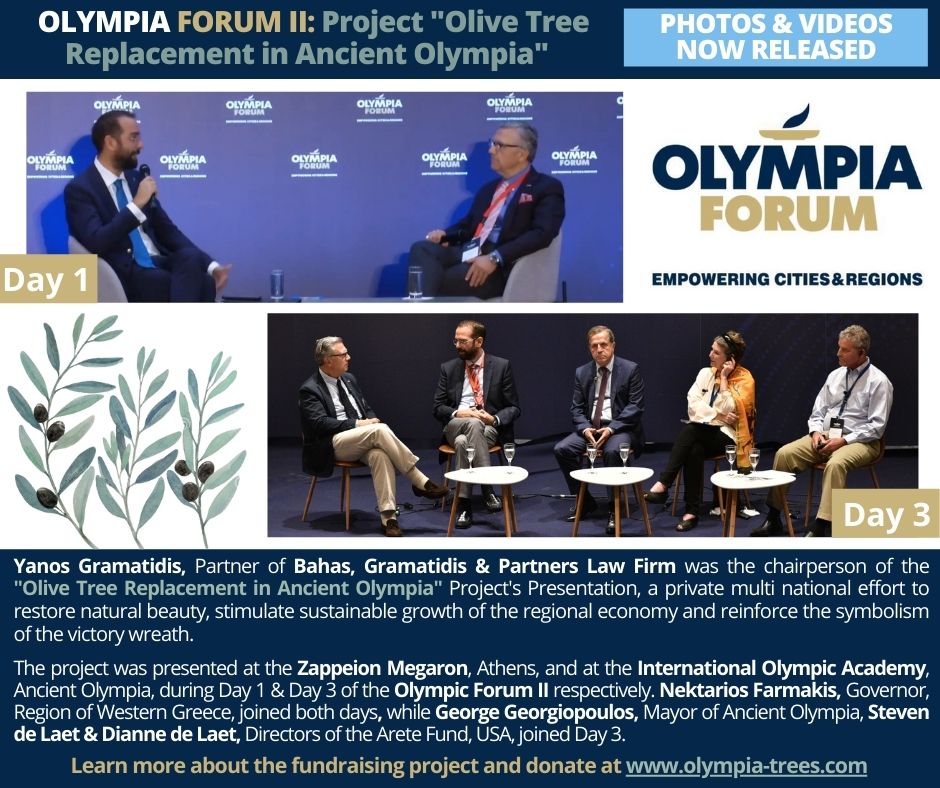 Yanos Gramatidis, Partner of Bahas, Gramatidis & Partners Law Firm was the chairperson of the "Olive Tree Replacement in Ancient Olympia" Project's Presentation, a private multi national effort to restore natural beauty, stimulate sustainable growth of the regional economy and reinforce the symbolism of the victory wreath.
The project was presented at the Zappeion Megaron, Athens, and at the International Olympic Academy, Ancient Olympia, during Day 1 & Day 3 of the Olympic Forum II respectively.
Nektarios Farmakis, Governor, Region of Western Greece, joined both days, while George Georgiopoulos, Mayor of Ancient Olympia, Steven de Laet & Dianne de Laet, Directors of the Arete Fund, USA, joined Day 3.
You may see the Video of the project's presentation at Zappeion Megaron, Athens, below:
You may see the Video of the project's presentation at the International Olympic Academy, Ancient Olympia, below:
You may see photos of the project's presentation at BGP's website, here
Learn more about the fundraising project and donate at www.olympia-trees.com