Litigation or Mediation?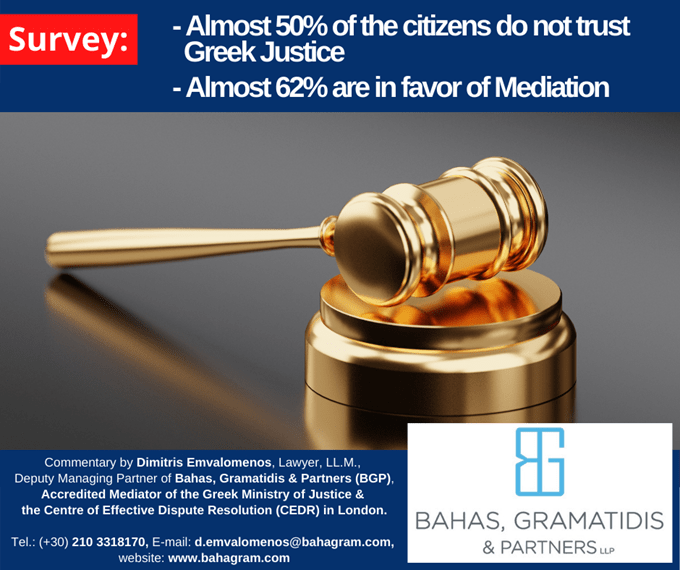 Litigation or Mediation?
Commentary by Dimitris Emvalomenos, Lawyer, LL.M., Dep. Managing Partner of Bahas, Gramatidis & Partners (BGP), Accredited Mediator of the Greek Ministry of Justice & the Centre of Effective Dispute Resolution (CEDR) in London.

-Unfortunately, the big and chronic problems of dispute resolution through litigation remain unchanged (with no signs of improvement in the near future).

The recent survey conducted by aboutpeople for the NEWS 24/7 radio programme 20/20 serves as a reminder:
Almost 50% of the respondents do not trust Greek Justice !
In specific:
"Lack of trust: 48.5% of the respondents answered that they trust Greek Justice, while 49.9% answered in the negative. More specifically, 13.7% said that they trust Greek Justice, 34.8% that they probably trust it, 28.2% that they probably do not trust it and 21.7% that they do not trust it. The levels of trust were higher in the case of women and older people. "
"Delays and interventions: Possible interventions of financial and other interests in Justice are seen as the most significant problem, at a rate of 39.5%, followed by delays in the administration of justice (34.4%), political interventions (16.6%) and the financial cost of involving in legal proceedings (7.2%)."

– On the contrary, it is particularly hopeful that almost 62% of the respondents are in favor of Mediation.
In specific:"In favor of out-of-court mediation: The institution of out-of-court mediation is seen positively by 61.9% of the respondents and negatively by 15.6%."

Τhe survey [in Greek], here with one click:
[Source: news247.gr, "Survey 20/20: Almost 50% of citizens do not trust the Greek Justice", 18.12.2020]

– A brief discussion of the modern concept and the trend for Mediation, here with one click:

[First published in the "LAWYER, The Business Magazine", issue 002, July – August 2020]:

Because Mediation
is the alternative to (not the replacement of) litigation for dispute resolution
does not affect the rights of the parties
can also be done online, covid-19 free.
Mediation = Dispute Meditation & Medication