LEXOLOGY Getting The Deal Through |Mediation 2022 | Chapter Greece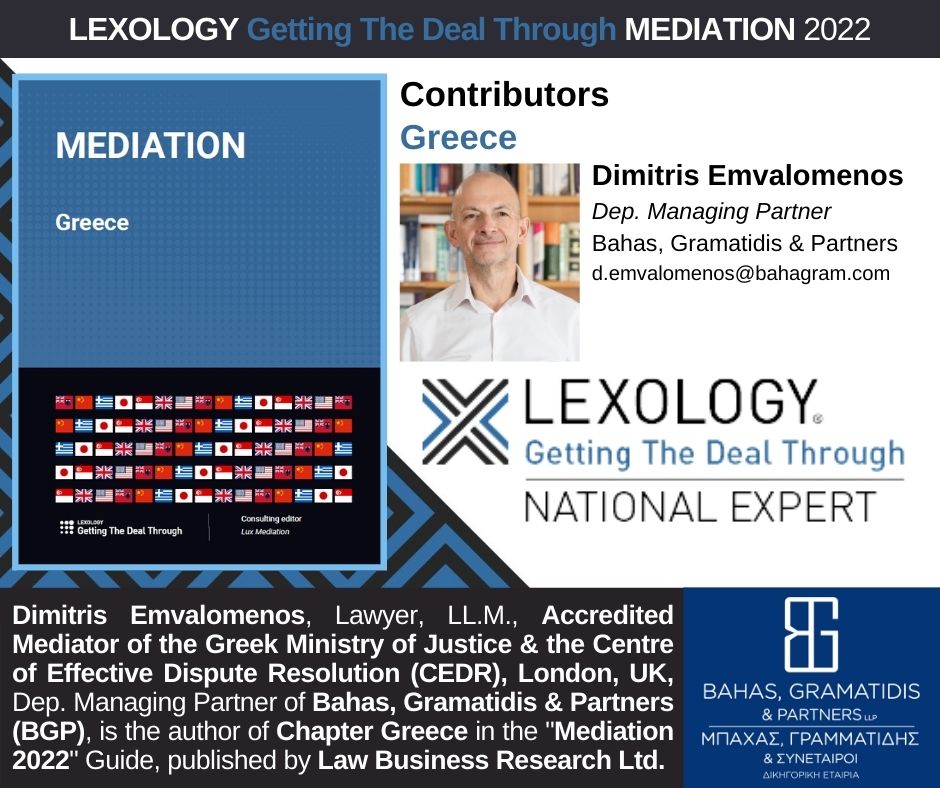 Proud to announce that Dimitris Emvalomenos, Lawyer, LL.M., Accredited Mediator of the Greek Ministry of Justice & the Centre of Effective Dispute Resolution (CEDR), London, UK, Dep. Managing Partner of Bahas, Gramatidis & Partners (BGP), is the author of Chapter Greece in the "Mediation 2022" Guide, published by Law Business Research Ltd.
This edition in the LEXOLOGY Getting The Deal Through series is a quick reference guide enabling side-by-side comparison of local insights, including law and policy (definitions, models, domestic mediation law, mediation incentives, sanctions); mediators (accreditation, liability, appointment, conflicts of interest, fees); procedure; settlement agreements; courts' duty regarding mediation; statistics; trends.
For more information, please visit LEXOLOGY Getting The Deal Through website here.
You may read Chapter Greece in the viewer below.
Reproduced with permission from Law Business Research Ltd.
The article was first published in LEXOLOGY Getting the Deal Through – Mediation 2022, in July 2022.