Lexology / Getting the Deal Through – Air Transport 2022, Chapter Greece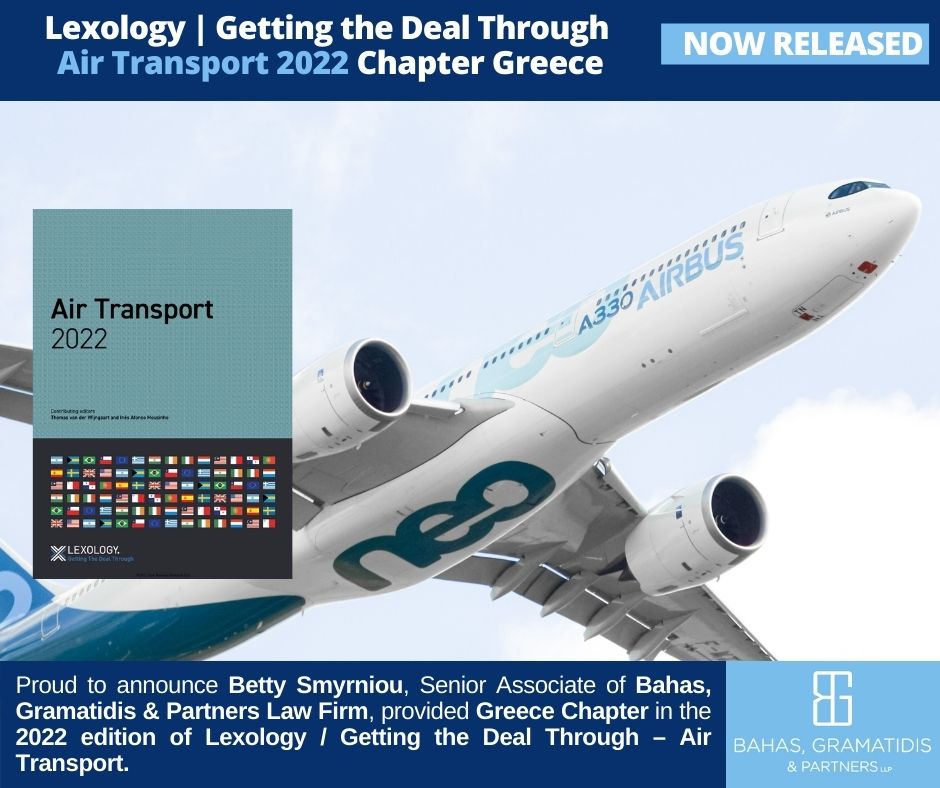 Proud to announce Betty Smyrniou, Senior Associate of Bahas, Gramatidis & Partners Law Firm, provided Greece Chapter in the 2022 edition of Lexology / Getting the Deal Through – Air Transport.
A few words for the author
The contributing author is the Firm's leading lawyer of Labor and Social Benefits and Aviation practice, Betty Smyrniou, one of the leading Greek experts in aviation law, representing major leasing companies, as well as banking institutions, in aircraft finance, leasing, acquisitions and dealing with all sorts of issues (operational, regulatory etc.) relating to airline companies. She also has litigation experience in employment and aviation law dealing with repossession claims related to aircraft and engines, claims regarding lease contracts, liens, EC261 claims, etc.
A few words for the publication
This quick reference guide enables a side-by-side comparison of local insights into a number of factors in the aviation industry including regulatory framework; safety regulations; licensing; competition policy and law; requirements for foreign carriers; regulation of airfares, aircraft and airports; liability and accidents; consumer protection; insurance and security issues; and recent trends.
You may read Air Transport – Chapter Greece in the viewer below
Air-Transport-2022

Reproduced with permission from Law Business Research Ltd. This article was first published in Lexology Getting the Deal Through – "Air Transport 2022" (Published: August 2021).