Η Ελλάδα αλλάζει. Πρέπει όμως να αλλάξουμε κι εμείς…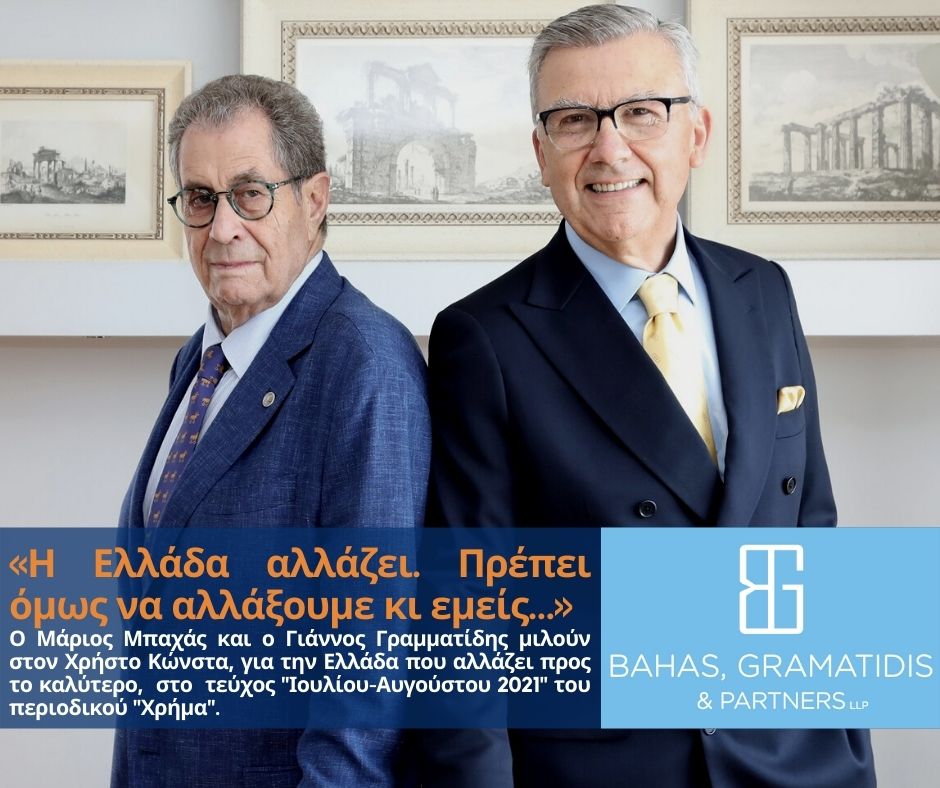 Ο Μάριος Μπαχάς και ο Γιάννος Γραμματίδης μιλούν στον Χρήστο Κώνστα, για την Ελλάδα που αλλάζει προς το καλύτερο, στο τεύχος "Ιούλιος-Αύγουστος 2021" του περιοδικού "Χρήμα".
Διαβάζουμε στην εισαγωγή της συνέντευξής τους:
Διοικούν μαζί μία από τις κορυφαίες δικηγορικές εταιρείες της χώρας. Διαθέτουν εμπειρία πέντε δεκαετιών. Η Μπαχάς, Γραμματίδης & Συνεταίροι είναι η μοναδική ελληνική δικηγορική εταιρεία μέλος του World Law Group, ενός από τα ισχυρότερα και πιο ενεργά διεθνή δίκτυα δικηγορικών εταιρειών παγκοσμίως, το οποίο αποτελείται από 61 δικηγορικές εταιρείες-μέλη υψηλού επιπέδου, με 417 γραφεία και περισσότερους από 21.000 δικηγόρους σε 96 χώρες. Η εταιρεία είναι -αποκλειστικά για την Ελλάδα- μέλος κορυφαίων διεθνών επαγγελματικών οργανισμών, όπως ο International Society of Primerus Law Firms, με περισσότερα από 200 δικηγορικά γραφεία σε 47 χώρες, ο DRI Europe, ο International Association of Defense Counsel (IADC), ο European Justice Forum (EJF), το δίκτυο European Franchise Lawyers (EFL), ενώ συμμετέχει σε πολλούς άλλους, όπως ο EALA (European Aviation Law Association), ο EELA (European Employment Lawyers Association) κ.ά.

Η Μπαχάς, Γραμματίδης & Συνεταίροι αξιολογήθηκε φέτος από Διεθνείς Ανεξάρτητους Οίκους Αξιολόγησης  IFLR1000, The Legal 500 κ.ά.) ως μία από τις κορυφαίες δικηγορικές εταιρείες στον τομέα του Banking & Finance στην Ελλάδα.

Με απλά λόγια, οι κύριοι Μάριος Μπαχάς και Γιάννος Γραμματίδης έχουν τη δυνατότητα, τις γνώσεις, τις εμπειρίες και τις διασυνδέσεις να συμβάλουν ουσιαστικά στην υπόθεση «προσέλκυση ξένων επενδύσεων» στην Ελλάδα. Απόφοιτοι της Νομικής Σχολής και οι δύο, με σπουδαίες, ίσως και μοναδικές για την εποχή τους, μεταπτυχιακές σπουδές και εμπειρίες, προσφέρουν στους πελάτες τους -αλλά τελικά και στην ελληνική κοινωνία- υπηρεσίες υψηλής ποιότητας, σύμφωνες με τις διεθνείς πρακτικές, οι οποίες ανταποκρίνονται στις ανάγκες της χώρας, όχι μόνο μέσα από την εφαρμογή του δικαίου, αλλά και με οδηγό σύγχρονες επιχειρηματικές προσεγγίσεις.

Μια συζήτηση με τον Μάριο Μπαχά και τον Γιάννο Γραμματίδη είναι πάντα ένας θησαυρός γνώσεων, εμπειριών και καινοτόμων ιδεών.
Κατεβάστε ολόκληρη τη συνέντευξη με ένα κλικ εδώ ή διαβάστε την στον viewer παρακάτω
ΣΥΝΕΝΤΕΥΞΗ-Μ.-ΜΠΑΧΑ-Γ.-ΓΡΑΜΜΑΤΙΔΗ-ΠΕΡΙΟΔΙΚΟ-ΧΡΗΜΑ-Τ.453-ΙΟΥΛ-ΑΥΓ-2021