Επίλυση Διαφορών ; «Κάντε Διαμεσολάβηση, ΟΧΙ Πόλεμο Αντιδικίας» !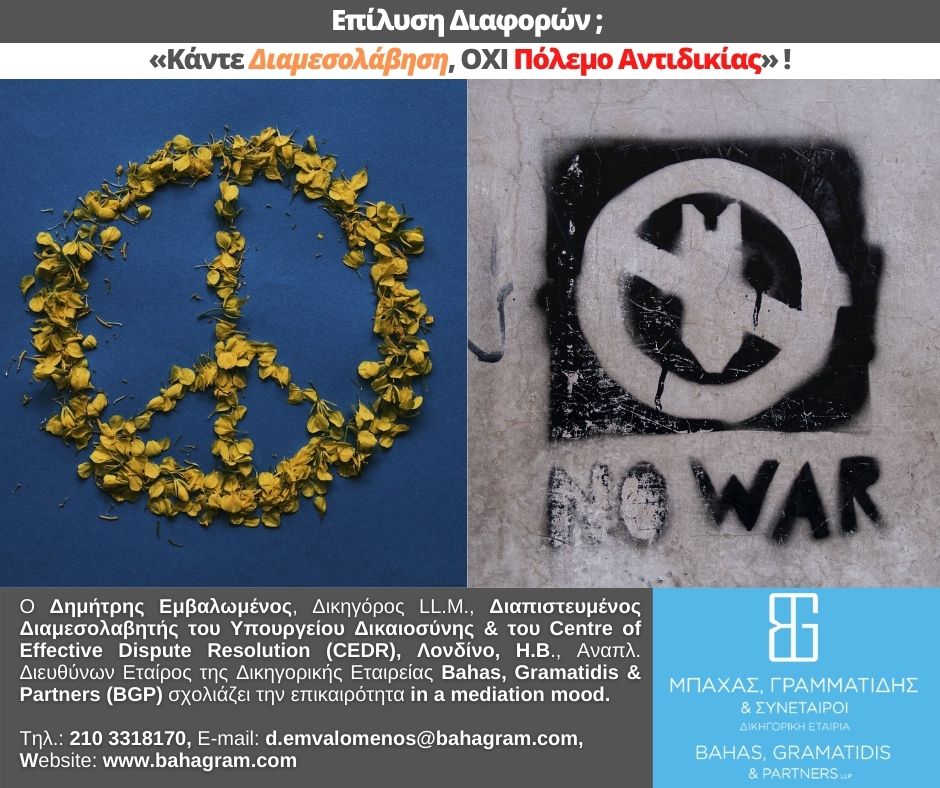 Σχολιάζει ο Δημήτρης Εμβαλωμένος, Δικηγόρος LL.M., Διαπιστευμένος Διαμεσολαβητής του Υπουργείου Δικαιοσύνης & του Centre of Effective Dispute Resolution (CEDR), Λονδίνο, H.B., Αναπλ. Διευθύνων Εταίρος της Δικηγορικής Εταιρείας Bahas, Gramatidis & Partners (BGP).
1. Επειδή ο «Πόλεμος» είναι οπωσδήποτε μια lose – lose λύση, ο μη «Πόλεμος» είναι πάντα καλύτερη λύση και ειδικότερα, η Διαμεσολάβηση είναι win – win λύση.
Εδώ με ένα κλικ.
2. Επειδή, τελικά, ο κάθε «Πόλεμος» είναι στο μυαλό μας:
– το θολωμένο, όπου «ο κόσμος είναι … κάτι σκιές απ' τα παλιά και κάποιο πάθος μου τρελό»
Εδώ με ένα κλικ.
[Το θολωμένο μου μυαλό, Πασχάλης Τερζής – Δημήτρης Μητροπάνος, Πρώτη εκτέλεση: Δημήτρης Μητροπάνος, Άλμπουμ: Κρυφά, Μουσική – Στίχοι: Άκης Πάνου, ©2014 Minos – EMI SA]
– το βαρήκοο, «που εγώ άλλα του λέω κι άλλα ακούει»
Εδώ με ένα κλικ.
[Στο μυαλό, Θέμης Αδαμαντίδης, Άλμπουμ: Στο μυαλό, Μουσική – Στίχοι: Ανδρέας Κομπόσης, ©2018 Heaven Music]
– το άμυαλο, «Μυαλό δε θα βάλει αυτό το κεφάλι, δεν έχει καμία λογική … κι αυτό επιμένει εκεί»
Εδώ με ένα κλικ.
[Μυαλό δε θα βάλει, Δημήτρης Μητροπάνος, Άλμπουμ: Απόψε όλα θα σ' τα πω, Μουσική: Τάκης Μπουγάς, Στίχοι: Γιώργος Παυριανός, ©2009]
– το επικίνδυνο, που «καταργεί τη λογική και σε παράλογες … φτάνει υποθέσεις»
Εδώ με ένα κλικ.
[Μυαλό μου επικίνδυνο, Άντζελα Δημητρίου, Άλμπουμ: Όπου με πάει η καρδιά, Μουσική: Ανδρέας Μέξας, Στίχοι: Γιώργος Παπαγιαννόπουλος, © Minos – EMI SA 2002]
– το Δονκιχωτικό, το ουτοπικό, στο ταξίδι που «δεν έχει σύνδεση με την πραγματικότητα»
Εδώ με ένα κλικ.
[Πηγή: Νέα Ακρόπολη Αθήνα, Άρθρο: «Δον Κιχώτης – Σύμβολο ενός ονειροπόλου ή ενός τρελού;», 20.12.2018]
3. Η Διαμεσολάβηση μπορεί να «μετακινήσει» τους φαύλους κύκλους των ανεμόμυλων του μυαλού μας
Εδώ με ένα κλικ.
[The windmills of your mind, Sting, Theme from the film «The Thomas Crown Affair», Μουσική: Michel Legrand, Στίχοι: Alan and Marilyn Bergman, © Reprise 1968]
«Round like a circle in a spiral, like a wheel within a wheel
Never ending or beginning on an ever spinning reel
[…]
Like the circles that you find in the windmills of your mind!»
4. Επειδή η Διαμεσολάβηση (ν. 4640/2019):
– επιτρέπει τη ρεαλιστική αποτίμηση και επανεκτίμηση των θέσεων των μερών
– έτσι επανα-πλαισιώνει το αντικείμενο της διαφοράς
– διευρύνει τις εναλλακτικές – επιλογές
– λαμβάνει υπόψη τα συναισθήματα και τα συμφέροντα των μερών
– διευκολύνει τη καλόπιστη συζήτηση από «μηδενική βάση»
– μπορεί να δώσει λύσεις «out of the box», χωρίς φορμαλιστικές δεσμεύσεις
– γίνεται οποτεδήποτε, με χαμηλό κόστος
– και σε κάθε περίπτωση, αφήνει τις «πόρτες ανοικτές»
5. Επειδή, τελικά, η Διαμεσολάβηση «ξαναπαίζει» τα παιχνίδια του μυαλού μας, διορθωτικά
Εδώ με ένα κλικ.
[Mind Games, John Lennon and The Plastic U.F.Ono Band, Μουσική – Στίχοι: John Lennon, © 2010 Calderstone Productions Limited (a division of Universal Music Group)]
«We're playing those mind games together
Pushing the barriers planting seeds
Playing the mind guerrilla
[…]
Raising the spirit of peace and love»
Μερικά σχόλια του Δημήτρη Εμβαλωμένου για τον θεσμό της Διαμεσολάβησης: Εδώ με ένα κλικ.
Mediation = Dispute Meditation & Medication