Bahas, Gramatidis & Partners sponsored the "7th Digital Banking Forum"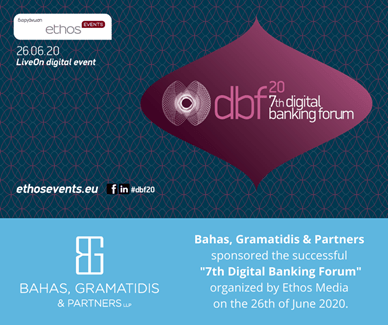 The "7th Digital Banking Forum", organized by ethosEVENTS, was successfully organized on Friday, 26th of June 2020, through ethosEVENTS' digital platform "LiveOn".
Bahas, Gramatidis & Partners contributed to the forum with a "Premium Corporate Participation".
A few words for the event:
This year's event topic was "Innovation in the Banking Sector"
Innovation in the banking sector was among the main topics of the 7th Digital Banking Forum, the conference on banking organized by ethosEVENTS with the objective to highlight – for one more year – the trends developing in this particular market sector in Greece and abroad.
The Digital Banking Forum was an event that has transformed the way the use of digital technologies in the banking sector is presented. This year it was organized as a Digital Event, with the goal to offer participants a unique experience, as it differs from other events on banking and finance in terms of presentations and interaction between audience and speakers. Characteristic examples of this differentiation were the "virtual fireside chats", which were live & online one-on-one interviews where representatives of major "players" in the financial sector discussed new market trends and presented their plans for the near future.
The conference was organized by ethosEVENTS in collaboration with the economic and business portal banks.com.gr and the economic and investment magazine HRIMA. It took place on Friday 26 June 2020 as a Digital Event, available through ethosEVENTS' platform LiveOn.
The program director of the Forum was the journalist Dimitris Mallas.
The 7th Digital Banking Forum focused on the following areas of interest:
Innovations by regulatory authorities
Innovations by Greek banks
The new "players" in Greece
Open Banking
Startups
Its audience was:
High-ranking bank executives who understand the importance of the sector's digital transformation and seek to broaden their know-how
Insurance executives who follow the developments regarding the establishment and implementation of new business models
Digital technology companies' executives seeking to network with professionals involved in the financial sector interested in utilizing digital technology tools
Young entrepreneurs involved in the fast-growing fintech sector
Executives from various market sectors who wish to get information on the new trends in the financial sector and the new digital products and services that will help them improve their services and operation
Find out more about the event here: https://ethosevents.eu/en/event/7th-digital-banking-forum-en/