Bahas, Gramatidis & Partners Law Firm is Legal Advisor to the HRADF in the project "New Industrial Parks".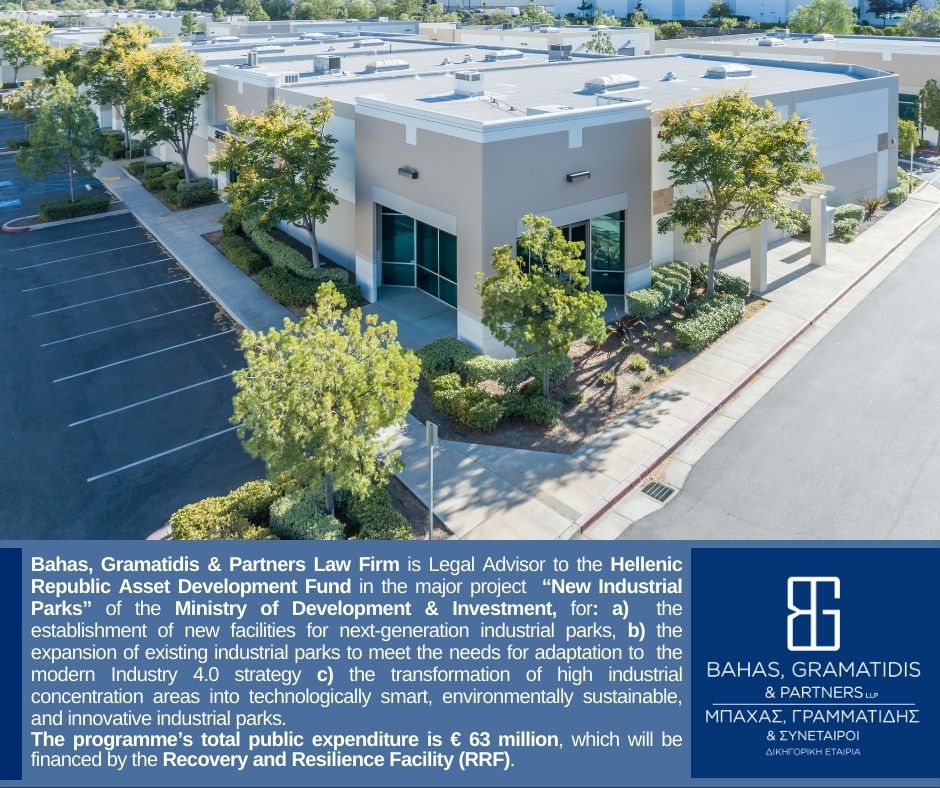 Bahas, Gramatidis & Partners Law Firm is Legal Advisor to The Hellenic Republic Asset Development Fund (HRADF) in the major project of the Greek Ministry of Development & Investment "New Industrial Parks".
The project concerns the provision of financial assistance/budget support by the Recovery and Resilience Fund (RRF) for:
the establishment of new facilities for next-generation industrial parks,
the expansion of existing industrial parks to meet the needs for adaptation to the modern Industry 4.0 strategy,
the transformation of high industrial concentration areas into technologically smart, environmentally sustainable, and innovative industrial parks.
The programme is also designed to support the promotion of the Industry 4.0 transformation initiative in Greece and improve the competitiveness of the Greek industry. Furthermore, the programme is expected to positively impact the achievement of the European Union's climate and environment and strengthen the circular economy.
The New Industrial Parks programme focuses on financing investments in the following areas of intervention:
infrastructure for the establishment of next-generation "smart" industrial districts (including land acquisition costs based on the restrictions that shall be specified in the announcement of the programme),
infrastructure for the use of renewable energy sources,
infrastructure for proper and sustainable management of water resources,
infrastructure for adequate and sustainable management of waste, and especially liquid waste,
infrastructure to promote electromobility.
Organizations managing and developing industrial districts (as defined in the relevant legislative, regulatory framework) are eligible to participate in the programme, following their application and subsequent evaluation. The Secretariat General for Industry of the Ministry of Development and Investments will be responsible for implementing the action in cooperation with HRADF, from launching the action through the evaluation and inclusion of business plans.
The programme will lead to the development of new Industrial Parks, the expansion of existing Industrial Parks, and the organization of areas with high industrial concentration in compliance with the requirements for the "green" and "digital" transition of manufacturing activity and the transformation of the role of Industrial Districts.
The creation/upgrade/rehabilitation of some nine industrial parks throughout Greece and the strengthening of Thess INTEC are expected. Therefore, implementing the programme's investment plans is expected to have very positive effects on employment by creating a significant number of new jobs and improving the competitiveness of the enterprises established in these parks.
The project is implemented through the National Recovery and Sustainability Plan "Greece 2.0" framework with European Union funding – NextGenerationEU.
The programme's total public expenditure is € 63 million, which will be paid from the Recovery and Resilience Facility (RRF). The programme's implementation will be completed by the end of 2025.